Documents will be returned in the same way as the initial document was sent; e-mail or post.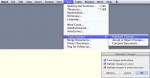 I edit documents using the 'Track Changes' option of Microsoft Word. You will receive an electronic document with all changes marked. The document must be viewed with the Microsoft Word 'Track Changes' option (Tools / Track Changes/Highlight Changes) turned on and 'Track changes while editing' selected. Any comments that I have added will then also be visible.
The changes are my suggestions. You decide which to keep using the Accept or Reject Changes feature of Word (Tools / Track Changes/Accept or Reject Changes). Sentences that I find unclear will be indicated. Similarly, I will point out sentences that I find ambiguous and offer alternatives.  Sometimes I may add a comment asking you to carefully check that the desired meaning has been retained.
If requested I will also return a second file where all changes have been accepted.
It is your responsibility to ensure that your meaning has been retained throughout the document/documents you receive and that they are still scientifically correct; see disclaimer.